A Digital Axe Throwing App To Increase Repeat Business
Take a high-tech approach to a low-tech sport with the Axe Arcade digital scoring app, growing your customer base with a super intuitive user experience.
More Fun, Less Math
First-time axe throwers may initially regard the sport as a lighthearted means of letting off steam – but in our experience, it only takes a few throws for even the most skeptical customer to start getting competitive. And nothing takes away from that competitive spirit like having to figure out the best way to tally up scores on a whiteboard. Our axe throwing scoring app makes it simple for you and your customers to keep score, track progress, check time remaining and beyond, keeping them coming back for more.
Get a Free Demonstration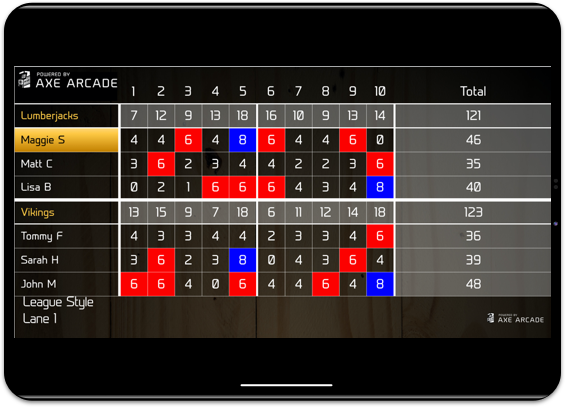 The customers love being able to track the improvement of their skills by using the app. It keeps them engaged and coming back again and again.
– M.R., General Manager, Dueling Axes
Why It's Great For Customers
The app is designed to make axe throwing more competitive, more approachable and to take the guesswork out of score-keeping for pros and first-timers alike. The clean, sleek design and intuitive interface allow for easy use with individual and team-based score-keeping, with single lane or multiple lane reservations. The constantly growing list of games and play styles is sure to keep a group of any size entertained for hours. Our app is the "Arcade" in Axe Arcade.
Why It's Great For Business Owners
Integration with the reservation management platform is at the heart of what makes our app a must-have addition to your venue. Guests who have completed a waiver and are checked in to their reservation are automatically added to the scoring app, making the set-up process effortless as a coach or check-in host. While staff and guests are interacting with the app, the reservation platform is constantly receiving important status updates, so your team can manage the busiest days and nights with ease.
The versatility of the app makes it possible to easily edit scores, start a new game, change games, edit thrower order and so much more. Finally, the app makes it possible for returning customers to see improvement from their previous performance – meaning greater motivation for customers to return!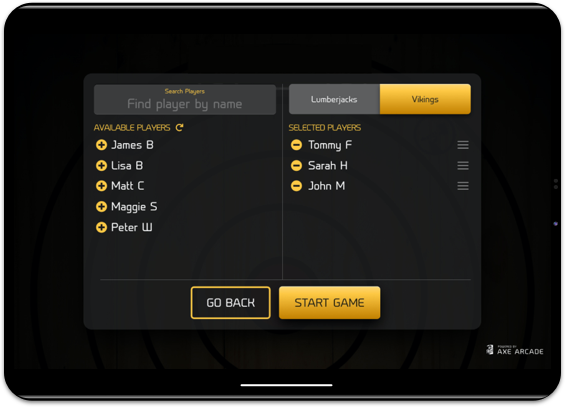 Capabilities
The digital scoring app integrates with the Axe Arcade reservation platform and communicates with reservation details. When a party comes into your axe-throwing facility, the app:
1
Knows which participants are on which lane
2
Autofills names from reservations so players don't have to enter them
3
Displays a welcome message for all groups
4
Starts and ends reservation time
5
Lays out customizable house rules and game rules
6
Keeps score for an ever-growing list of popular games
7
Gives a 15-minute warning prior to the end of the reservation
8
Emails scores to all players (when requested)
9
Offers new games to returning customers
Contact Us Today
For more information on how our digital scoring app can help your axe throwing business, contact Axe Arcade today!