RKd Solutions: Experience Empowered Online Booking
The way service-based businesses operate is changing in the best way. Our software enhances your online reservation and payment process by providing industry-specific, technology-driven business management.
Quickly switch between calendars and reporting dashboards for all of your locations and always be in the know.
Easy, updatable product list so you can sell more merchandise faster directly inside your reservation platform.
Whether you're working from home and want a nice bright screen or working in your venue and want to set the mood, Axe Arcade has you covered.
Seamless Reservation Management
Why choose RKd Solutions for your online booking needs? The answer is simple: our platform consolidates behind-the-scenes responsibilities like scheduling, payment processing, and calendar/resource organization. Think of it as the Swiss Army Knife of online booking. Isn't it time you introduce simplified reservation management to your business?
Have questions? We'd love to walk you through just how easy it is to use our booking solutions. Learn more about how you can implement our comprehensive software.
Contact Us Today
What You'll Love:
RKd Solutions features the latest technology to keep up with day-to-day reservation changes and long-term schedule updates like holiday hours and bye weeks for recurring events. Our user-friendly interface is made to guide tech-savviness at all experience levels so you never miss a beat.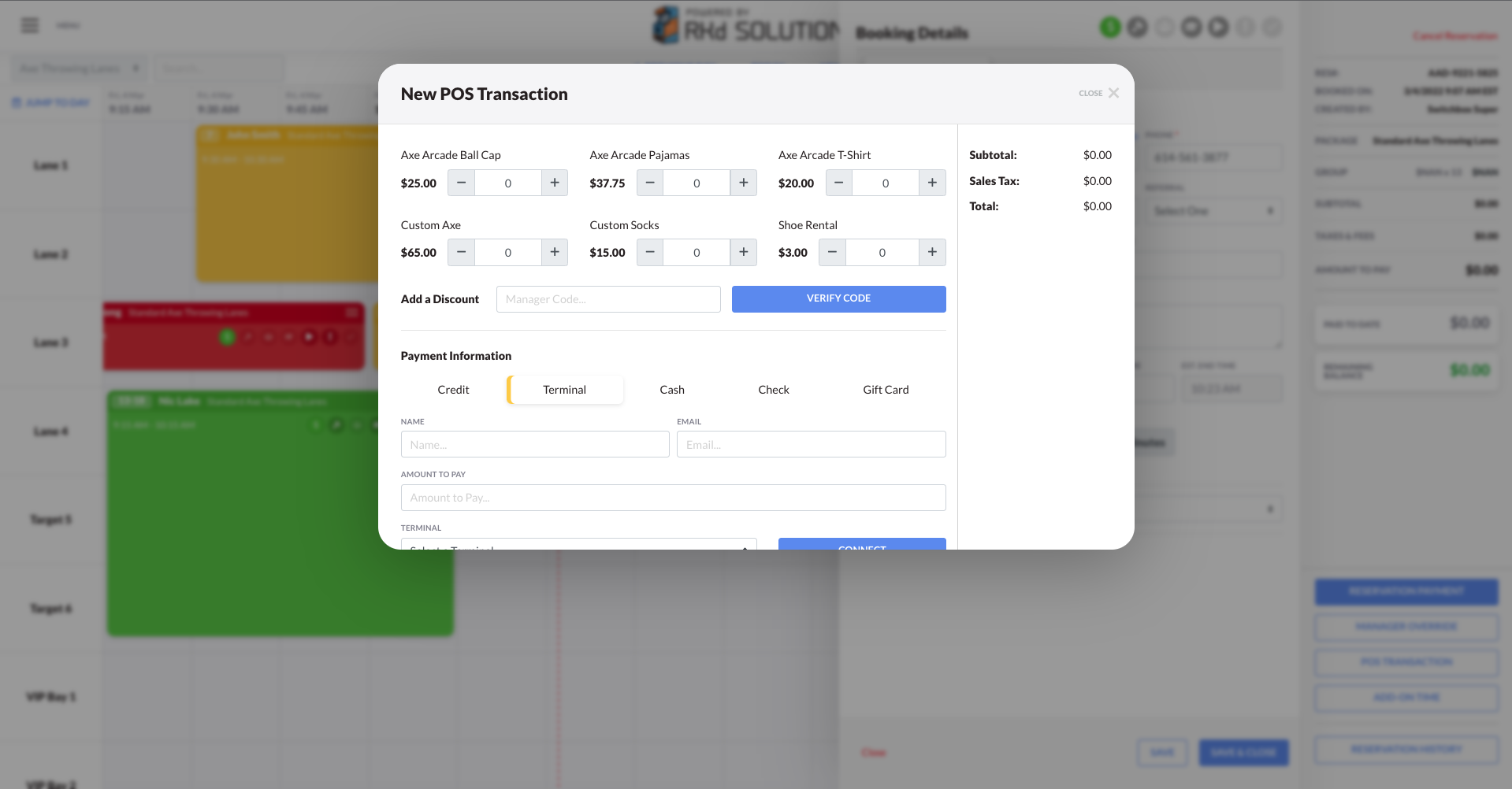 Reservation Management Made Simple
Busy nights are stressful enough without having to fight with your reservation calendar. Are all the waivers signed for this group? Which reservation is all checked in and ready to start? Who needs a time warning? Where's the best opening for the potential customer that just called? Get everything you need in a centralized place to make everyone's lives a little easier.
Unlimited packages
Calendar management
League scheduling
Special events (work parties, bachelor/bachelorette parties, reunions, etc.)
Schedule private or grouped parties
Book and manage multiple experiences and/or activities
Affiliate booking
Partnerships
Gift Cards
Streamlined and intuitive reservation management makes creating new bookings and making updates easier than you ever thought possible.
Never worry about following up or asking for a review ever again thanks to seamless and customizable email communications.
Flexible Payment Options
Bring your payment processing into the 21st century with Paysafe. Your customers can easily pay online, in-person, or from their phones so all you have to worry about is getting them through the door! Manage your eCommerce, mobile, and in-store payments in one, centralized place.
Digital Wavier Signing
Waivers linked to the appropriate reservation
Automated communications
For individual and group reservations
Demographics reporting
Marketing campaigns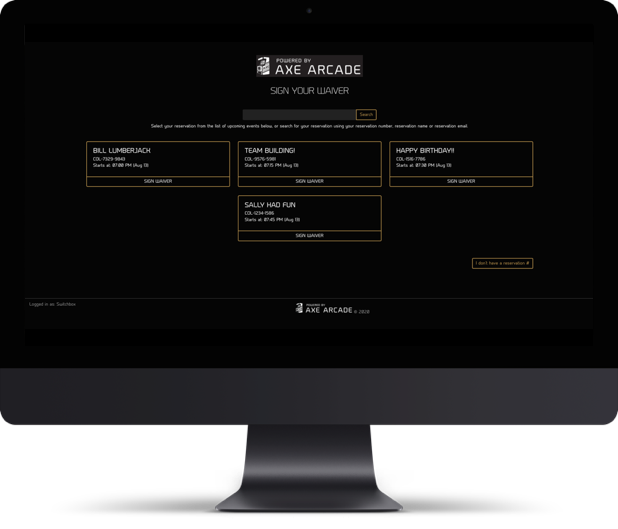 Axe Throwing Scoring
As the urban axe throwing industry continues to evolve, one thing is clear: This low-tech sport is begging for high-quality digital score tracking. Chalkboards and whiteboards can get the job done in the short term, but they can only take you so far.
Learn More
Ongoing Marketing Support & Reporting
Stop guessing and start reporting. The end of the month should be for celebrating, not stressing over reconciling. RKd Solutions has reporting dashboards for even the most demanding of business owners.
Google Analytics and Facebook Ads integration
Create promo codes and promotional pricing
Create custom digital gift cards
Demographic quick view dashboard and exportable reports
Robust financial tracking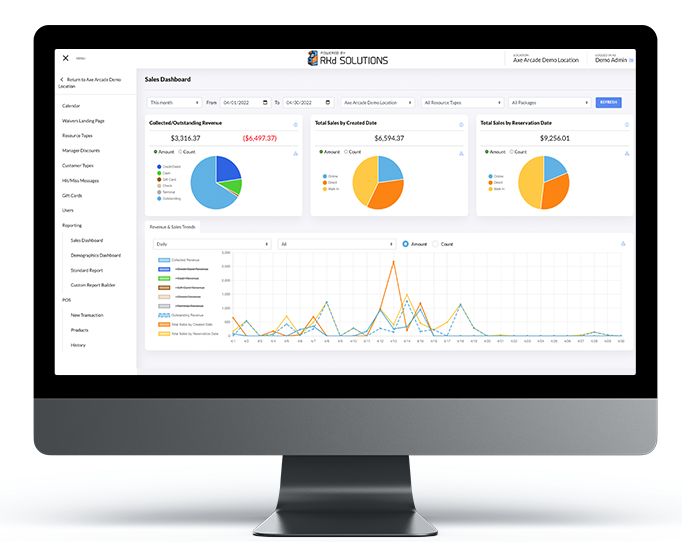 Built Specifically For Reservation-Based Businesses
Our online reservation platform is meticulously designed to integrate with your existing website and increase online sales conversion. Streamlined and intuitive reservation management makes creating new bookings and making updates easier than you ever thought possible.
Ready to get started? Contact RKd Solutions today to learn more about bringing our software to your business!