Online Booking & Payment Processing Software That Simplifies Reservations
Our new and improved cloud-based software platform streamlines the entire booking and payment process so your customers can easily make a reservation, pay a deposit or in full, and enjoy an experience they won't soon forget. With unparalleled customization capabilities, you can manage as much (or as little) of your online booking process as you want. Schedule a free demo today and see just how simple it is to display availability, showcase promotions, and scale your business with RKd Solutions.
Schedule a Free Demo
The Best Software For Reservation Management
Paying for multiple platforms to reserve and book experiences online is a thing of the past. Our scheduling software handles the heavy lifting for reservation management, taking payments, selling and redeeming gift cards, signing waivers, scheduling special events, running reports, and marketing integration to keep tabs on your entire operation.
Enhanced User Experience
Not the most tech-savvy individual? Exceptional customer support is built into our software. Hover over the area you're working within for instant explanations and guidance.
Tablet-friendly
Dark and light display options
Intuitive and user-friendly
Free software demo
100% Customizable
No one does business quite like you. Create branded messages and experiences in seconds.
Build packages tailored specifically to special and/or recurring events, pricing tiers, promotions, and more
Take payments and deposits for reservations online
Create unique messaging and automated email confirmations
Deliver a branded experience with your logo and color palette
Compatible With All Business Models
Market seasonal specials and oversee calendar management on the go.
Automate reservation and payment processing for any and all bookable experiences, from axe throwing and indoor golf simulators to poolside cabanas and VR experiences
Customizable reservation duration setup; automate recurring special events seamlessly
Offer special discounts for different customer types: EMS, veterans, students, seniors, etc.
Measure & Scale Ongoing Marketing
Track performance metrics and engagement with easy platform integration.
Integrates with Facebook Ads and Google Analytics
Keep track and measure ROI of current and future promotions and promo codes
Nurture customers with personalized correspondence with our MailChimp integration
Level up your booking experience with RKd Solutions! Contact us today.
Activity & Experience Booking, Simplified
We know how difficult it can be to find an all-encompassing booking solution that fits the unique needs of your industry. Hundreds of businesses are improving the way their customers reserve bowling lanes, axe throwing lanes, escape rooms, and more thanks to our resource reservation management software. Learn how we empower businesses across the country and how we can help you do the same.
Industries We Serve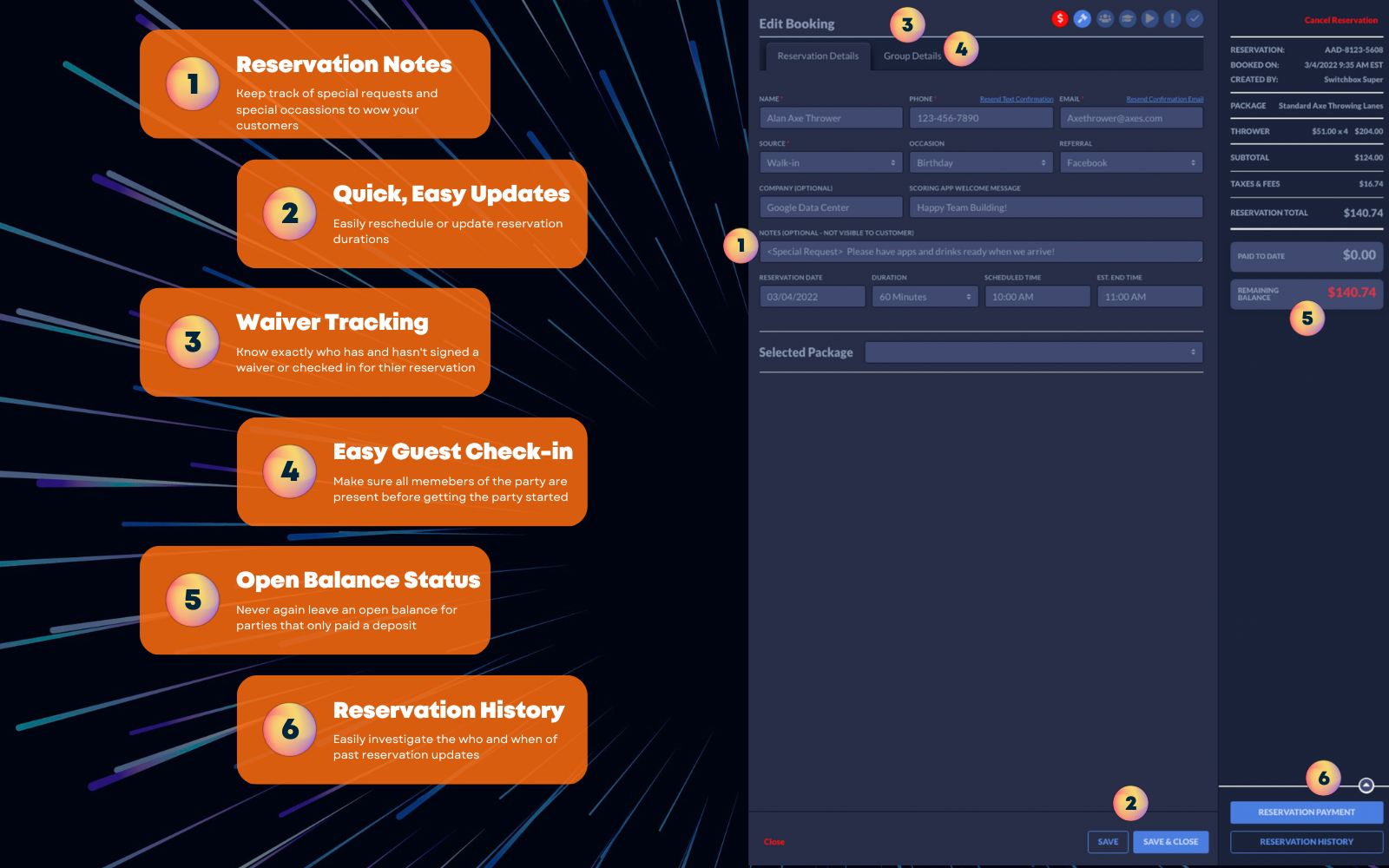 How it Works
RKd Solutions is the leading reservation and business management software built specifically for experience- and reservation-based businesses. The idea is to improve the customer-facing booking experience, and make the lives of our clients a little bit easier with features designed to automate their booking process and offer secure payment processing.
Facilitate every step of the booking process, including digital waivers and gift certificates
Keep customers on your website while making a reservation rather than redirect to a third-party provider
Automated communications with customers before and after their reservation at your venue
Tracking each group's start and end times
Automated follow-up emails to solicit online reviews after the reservation from EVERY guest, not just the person who booked the reservation.
Covering the entirety of the payment process, including point of sale (POS) transactions for walk-ins and merchandise, as well as digital gift card sales
Robust reporting features and a dashboard for instant access to all of your most important sales and demographic statistics
See all Features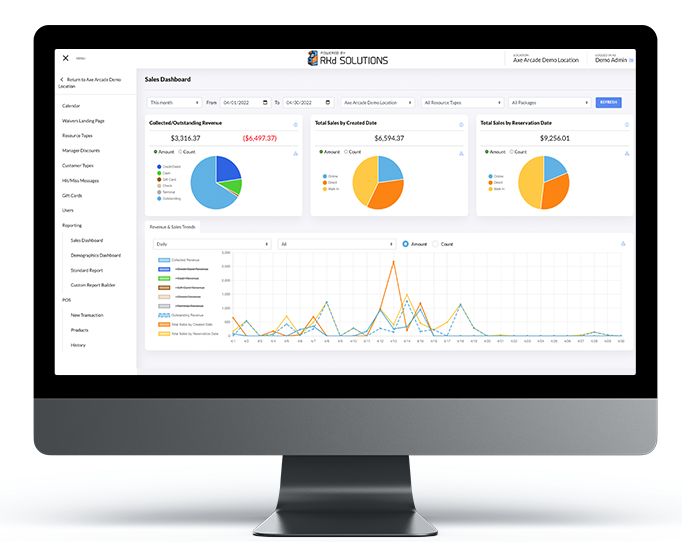 Easily drag and drop reservations to change lane assignments and reservation start times.
Automated reservation status updates for quick and easy real-time reservation management.
Fully customize your online booking window to keep branding and messaging consistent with your website.
The Axe Arcade Digital Scoring App
The Axe Arcade digital scoring app automates every step of the axe throwing gameplay process, keeping your customers impressed and engaged – and discreetly keeping you and your staff on top of everything going on. An easy, user-friendly app that can be installed at every throwing lane, it offers multiple game formats, keeps score, tracks player progress, enforces start and end times, gives a warning when a group's time is about to expire, and even emails players' scores and information to them when they're done. Wow your customers who weren't expecting it, delight your customers who demand it, and be the envy of your local competition. Don't get left behind.
Explore the App
Explore the App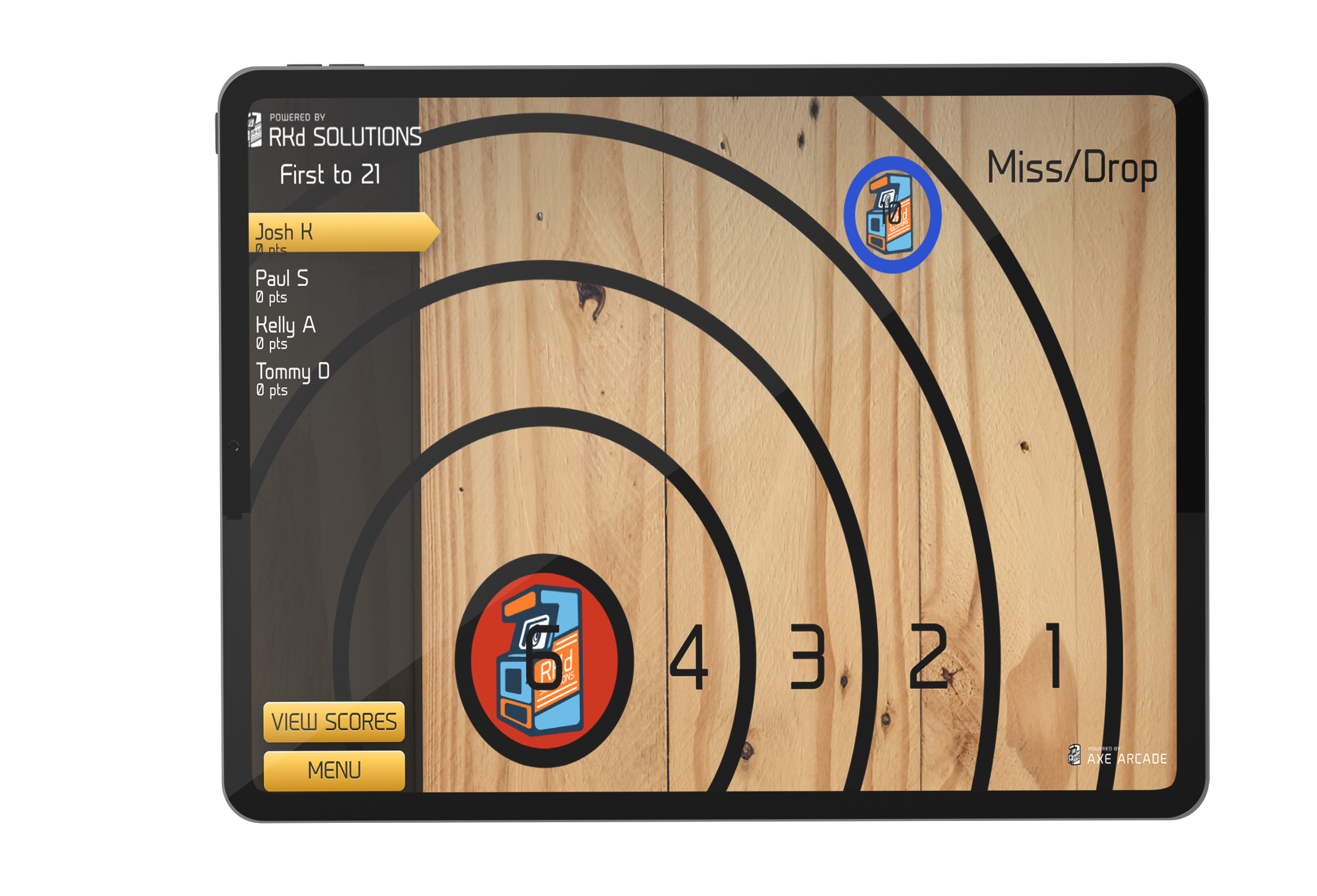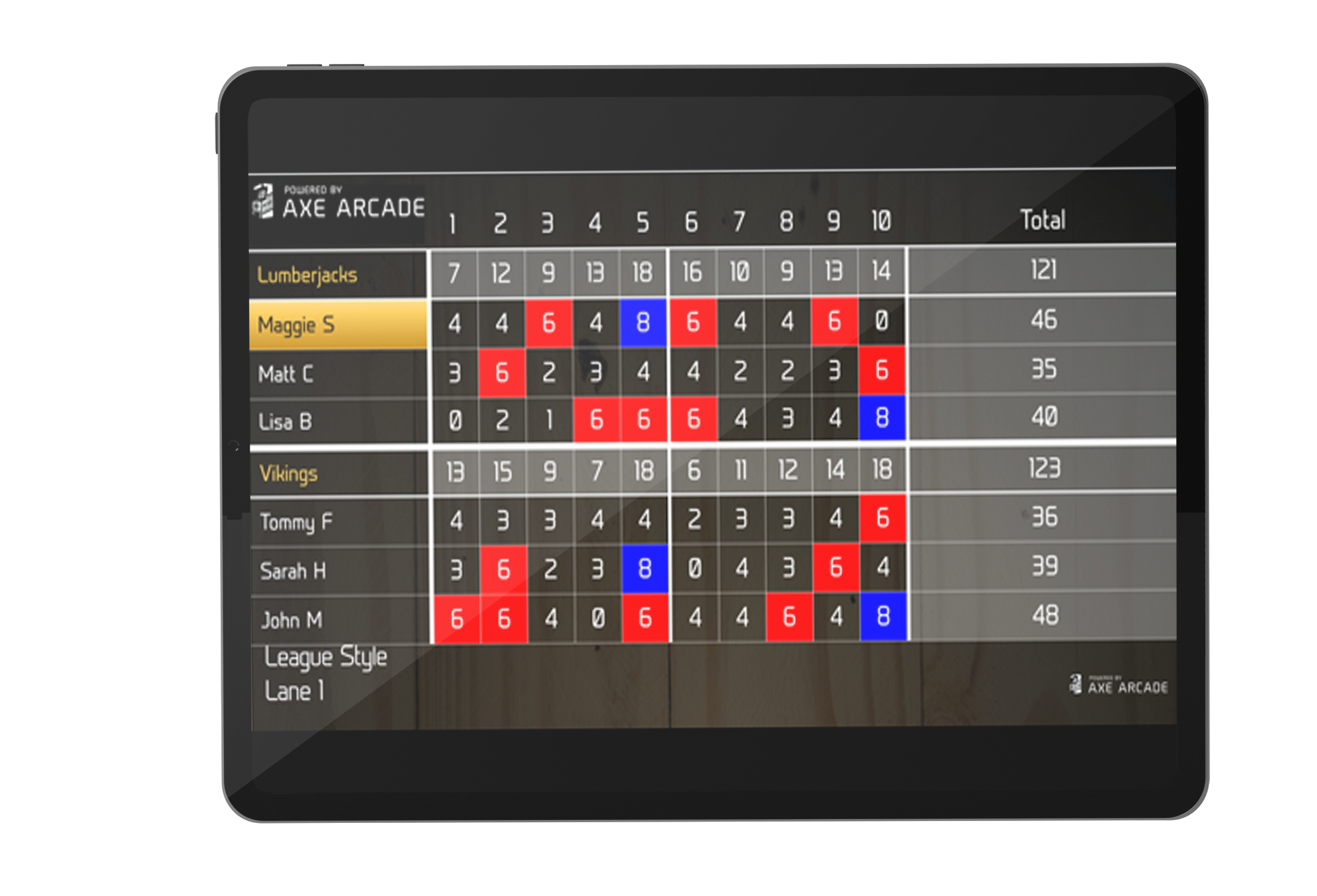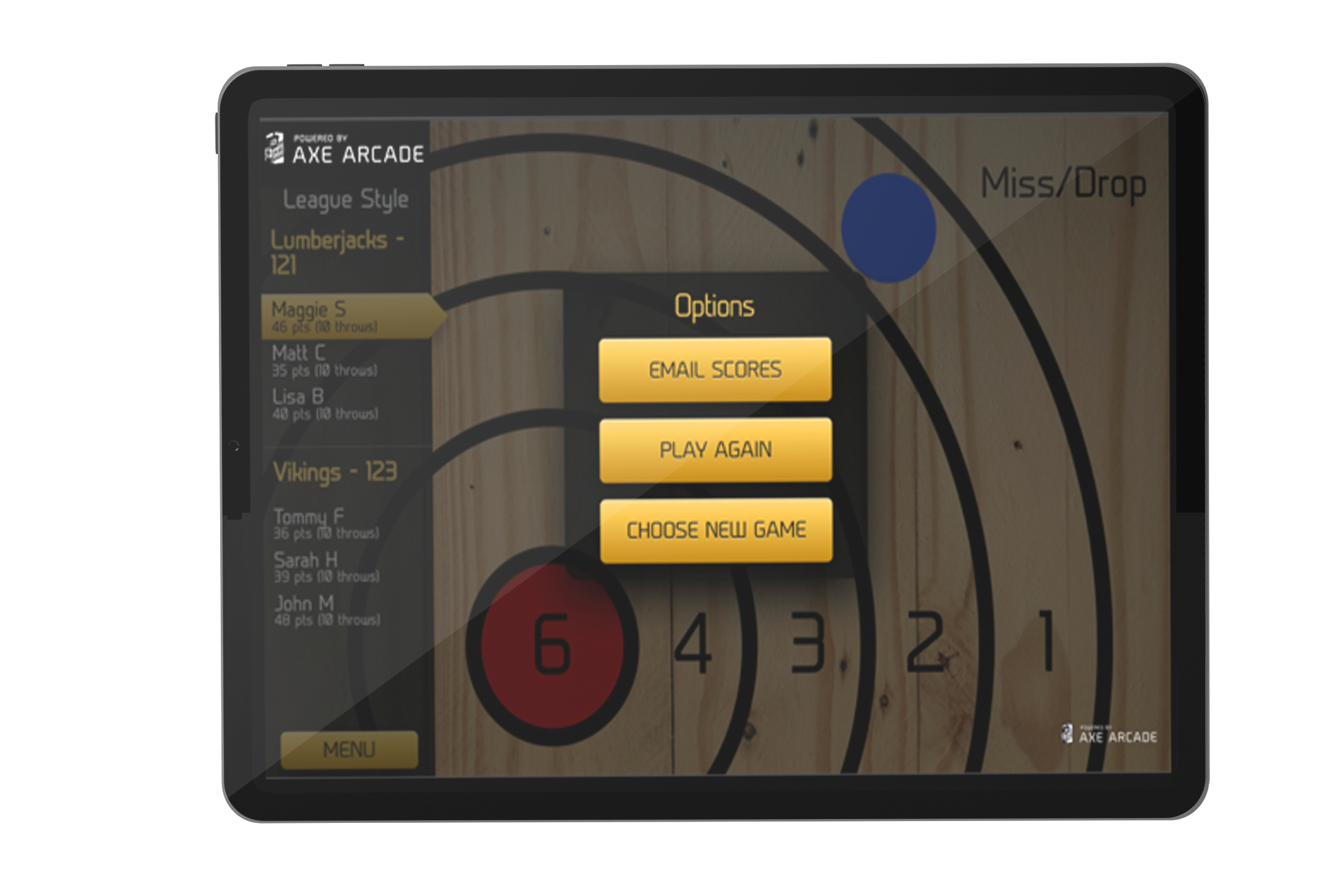 What Our
Clients Have
To Say
"Axe Arcade's integrated digital waivers communicate directly with each reservation on my schedule. It enables our business to send communications directly to each guest immediately following their visit to solicit feedback and generate more positive reviews."
— M.R., General Manager, Dueling Axes
"Axe Arcade is completely customizable. From adjustable pricing based on specific markets to the creation of peak hour pricing, the software enables control for every aspect of your operations with the intent on maximizing profits."
— P.W., Axe Throwing Venue Owner, Las Vegas, Nevada
Contact Us Today
Ready to get started, or looking to find out more? Reach out to us today to schedule a free demo!